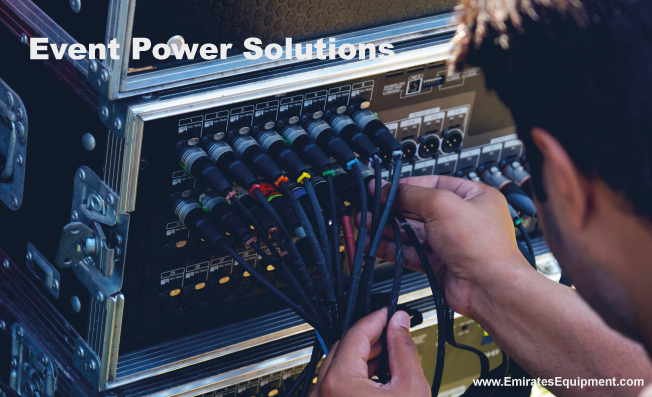 We make sure the show goes on.
At Emirates Equipment, we understand that power outages can have significant consequences for event organizers. That's why we offer a comprehensive range of event power solutions that can be tailored to meet the specific needs of your event. Our solutions are designed to provide reliable, safe, and uninterrupted power to keep your event running smoothly.
Whether you are planning an outdoor concert, festival, or corporate event, we have the expertise and equipment necessary to deliver the right power solution for your needs. Our team of highly skilled technicians can assess your event's power requirements and design a custom solution that meets your exact specifications.
We offer a wide range of power solutions, including generators, distribution boards, and cabling. Our generators are available in a range of sizes and power outputs, and we can provide both diesel and petrol options depending on your requirements. Our distribution boards are designed to provide a safe and easy way to distribute power throughout your event, while our cabling solutions ensure that power is delivered precisely where it's needed.
At Emirates Equipment, we understand that safety is paramount when it comes to event power solutions. That's why all of our equipment is regularly serviced and maintained to ensure it meets the highest safety standards. Our technicians are also fully trained and certified to work with our equipment, giving you the peace of mind that your event is in safe hands.
In addition to our event power solutions, we also offer a range of additional services to help make your event a success. These include lighting and sound equipment rental, stage and rigging solutions, and event production services. By choosing Emirates Equipment as your event partner, you can benefit from our extensive experience and expertise in the industry.
Overall, we believe that our event power solutions offer the perfect combination of reliability, safety, and flexibility, making them the ideal choice for any event organizer. Contact us today to learn more about our services and how we can help make your event a success.
Contact us for event power back solutions and generator rental in Abu Dhabi. تأجير المولدات لحفلات الزفاف في أبو ظبي – تأجير مولدات للخيام في أبو ظبي

Our Event Power rental fleet includes
Generators (50Hz and 60Hz)
Sync Panels
Automatic Transfer Switch (ATS)
Distribution Boards
Cables
Fuel Tanks
Cable Humps
Safety Barricades
Dip Trays
Electrical Accessories (connectors, splitters etc)